Fiber Laser OEM Kit - Class IV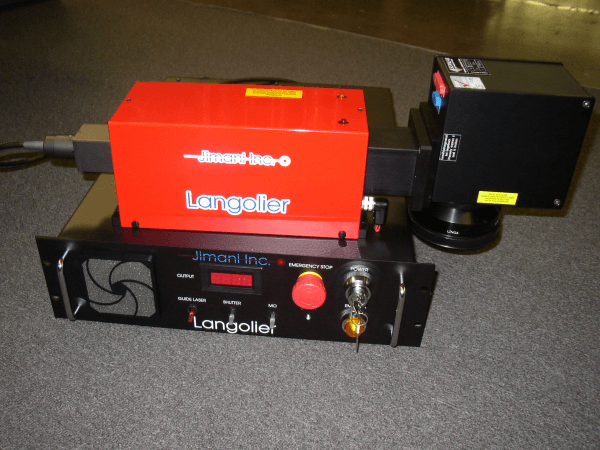 The Langolier fiber laser marking system is the state of the art in industrial direct part marking lasers. The Langolier fiber laser marker uses the latest solid state Ytterbium fiber laser systems (Infrared1060-1080nm) possessing a powerful and efficient combination of flexible fiber delivery, high peak power, excellent beam quality, and the best wall-plug efficiency available.
Air-Cooled, Ytterbium Q-Switched Fiber Laser for marking, etching, and engraving on a wide variety of surfaces
20, 30, and 50 watt versions
Maintenance-free design
Excellent beam quality (M

²

=1.4) -TEMoo beam profile
Low voltage power source (110 VAC) requirements
Flexible fiber cable beam delivery system
Designed for integration into automated work cells, assembly lines, and other user defined mounting platforms.
Built-in I/O for integration into a production line or with other equipment.
Fast marking times yield high throughput
Clean, precise marks with little heat affected zone
High contrast marking - clear crisp, readable marks both human and machine readable (2D, UID, UPC, and most standard bar codes)
Import and mark logo and vector graphic files easily
Ideal for laser marking Metals, Plastics, Ceramics, and just about anything else
Laser Stain Marking - Made on stainless steel and titanium creating an oxide layer forming a black mark
Laser Surface Etching - Slight material removal to create contrast mark
Laser Ablation - Surface material removal yielding a permanent mark
Laser Engraving - Deep marks for harsh environments and difficult applications
Langolier Fiber Laser Marking Systems have a record of reliability unmatched by any solid state or gas laser system. The Langolier is virtually maintenance free and has the lowest operating costs available.
On top of all of these benefits the Langolier OEM Kit delivers a small footprint giving you flexibility for integration into your existing or proposed production line or can be mounted and used as stand alone marking station. All Langolier fiber laser marking systems are supplied with Prolase 7, a user friendly, proven, robust laser marking systems software package.
Components of the Langolier OEM Kit include:
Q switched fiber laser source (20-50 watt) with integrated HeNe alignment laser
Scanlab hurrySCAN High Speed Scanheads
Scanlab RTC-5 Interface and I/O Boards
Network ready Industrial PC
Optical Head with reversible beam Expander
Langolier Fiber Laser Controller
Fiber Laser OEM Kit - Class IV on our Blog