Rotary Part Indexer Using Handshaking with the Laser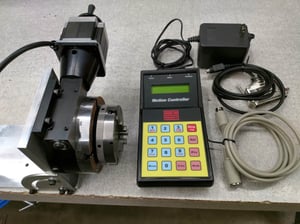 When a rotary indexer is used in a Langolier Laser Marking System, Prolase Laser Marking Software can either "handshake" with the rotary or control it directly.
If we simply handshake then we use the configuration complete from Sherline with the exception of a communication cable that Jimani builds.
We supply a cable that connects the Sherline controller to the laser systems software Prolase via I/O. Prolase then sends move commands to the Sherline controller telling it to rotate a certain amount The Sherline rotary device controller then sends a signal back to the Prolase software saying the position has been changed.
This configuration includes the Sherline controller and the rotary has their stepper motor attached to it. The Sherline controller gets programmed by the user to define a direction and amount of rotation. Jimani provides a communication cable that connects the Sherline controller to the Prolase I/O and this allows Prolase to send a "start" signal to the Sherline controller.
The Sherline controller then moves the rotary however it was programmed. Once a programmed move is finished, the Sherline controller sends a "move complete" signal back to the Prolase I/O to indicate that the move is done and Prolase can perform its next operation, usually placing a mark on the rotated part.
Prolase has no idea of how much or where the rotary moved. Prolase simply sent a "start" signal to the Sherline controller and then received a "move complete" signal back from the controller. This is "handshaking" and this technique is useful for many things but it is limited in functionality and does not let us do things like wrapping a logo around a cylinder.
For more complex rotary marking see Jimani controlling motion using Prolase.
So the process is signal sent to rotary device, mark, signal sent to laser control software, index and repeat until the marking is completed as per the job program file. This accessory is relatively inexpensive and easily set up.
Sherline Explains 5C Collet Holder
We now offer the Kalamazoo 5C collet holder as an optional feature on the Sherline rotary indexer with Langolier fiber laser systems.
Click here to learn more about the 5C collet holder.
If you are interested in talking to us about how to use accessories like this please contact us.
Handshake Method of Communication Example