X/Y Table and Tooling Plate
Add an X/Y Table and Tooling Plate to your Open Table Langolier. The tooling plate has dual purpose ¼" holes, on 1" centers. These holes are threaded ¼-20 on the bottom and reamed to ¼ on the top. This allows each hole to be used as a "part locating" hole when you insert a ¼" dowel pin. Each hole can also be used as a clamping hole using the ¼-20 thread.
In addition to the ¼-20 holes, the plate also has 10-32 holes which are positioned to mount the rotary table and tilting angle plate.
The X/Y tables are available with hand wheels calibrated in your choice of either inch or metric increments.
The X/Y tables are manufactured primarily from 6061-T6 aluminum and finished with black anodizing.
The table travel is 12.9" in the X axis and 3.7" in the Y axis.
The saddle has anti-backlash nuts to compensate for backlash.
Table movement is smooth, easy, and accurate.
The tooling plate is 8" x 18" x ¾" black anodized 6061 aluminum.
The overall height of the X/Y base and the tooling plate is 3.9". This offers a nice low profile to the large tooling plate.
To learn more about cleaning and lubricating the Sherline X/Y base plate click here.

See diagram below for hole location and description.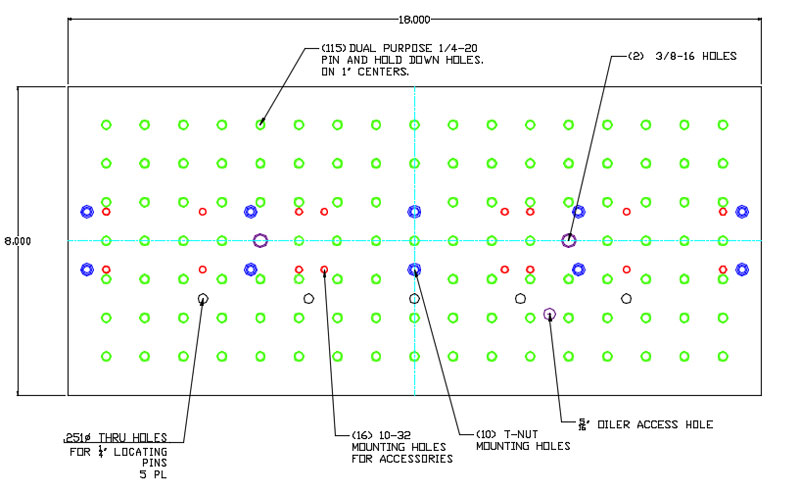 For more information visit the Sherline website by clicking here.
To read more details about the X/Y table please read the following blog posts:
Jimani's New Laser Engraving X/Y Tooling Plate
Accessories for the New X/Y Tooling Plate
Sherline Reviews Laser Engaving Slide Maintenance