LN-230 Fume Extractor for Laser Marking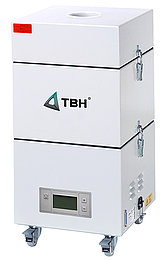 The devices in the LN 200 series feature a compact, modular design which allows simple adjustment of the filter configuration for individual applications. Thanks to the special high-power turbine, the units can be arranged in decentralised positions and extract reliably even over long distances.
The contaminated air is drawn in by the collection unit (extractor hood, suction arm, hose, etc.) and transported into the filter unit directly. In the filter unit, the contaminant particles are filtered into different filter levels according to their size.
All LN series units are equipped with an activated carbon/BAC filter element to remove the majority of gaseous contaminants. Afterwards, the purified air can either be circulated back into the work area or diverted outdoors through an exhaust duct. Recirculating the air in the work area is a way to easily reduce energy costs.
Click here to view the product specification sheet.