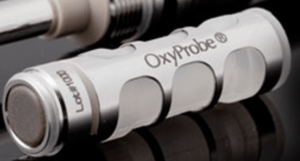 Broadley-James Corporation, located in Southern California, is a manufacturer of sensors, instrumentation and equipment for the Bioprocess and Pharmaceutical industries. Broadley-James decided to purchase a laser engraving system because permanent and legible direct part marking on their products for identification and traceability is essential to their manufacturing process in terms of inventory control, process management and internal tracking.
Broadley-James had no experience whatsoever with laser markers but they had a variety of materials, including brass, stainless steel, and plastic that could be well served by directly laser marking part identification and traceability on each component.
Broadley-James purchased their first laser marker, a Jimani Langolier Fiber Laser Marker, and as Dan Folwell, General Manager says, "We purchased our Jimani Langolier marking system over a year ago, and I have nothing but good things to say about the product. The Langolier truly is a turn-key system. The day after we received the unit, we had it unpacked, set up, plugged into a standard 115 Volt wall outlet and were marking our first sample parts. The system is a work horse. Since we received it, we've been marking stainless steel, brass and plastic parts almost every day with no problems and no maintenance. This system has become an important and valuable addition to our manufacturing capabilities."
The 20 watt Langolier fiber laser system comes standard with ProlaseXP software installed and is extremely operator friendly. Industry standard bar codes (2D Data Matrix, UID, UPC, Code 39, and many others) serial numbers, logos, text are all pre-loaded.
All common vector graphics files including .dxf, .plt., .dwg, .ai., and, eps as well as many less common file types are easily imported and incorporated into the job files. Raster printer file formats including .bmp, .jpeg, .pcx., .png., and .tif are also easily imported and adapted to laser marking.
Dan Folwell said that, "I would recommend taking advantage of the ½ day of training included with the purchase. My production manager and I visited the Jimani facility in Oxnard for the training, and left about eight hours later with samples engraved on the system we were going to purchase, and a thorough understanding of the equipment and how to use it. The technical support has been great. Jim and his team are very knowledgeable, not only about this system, but laser systems in general and so far, Jim has always been just a quick phone call or e-mail away. I wouldn't hesitate recommending the Langolier to anyone in the market for this type of laser marking system."