Servo Controlled Rotary Part Indexer Controller
Laser Marking Around a Diameter Made Easy

When a rotary indexer is used in a Langolier Laser Marking System, Prolase Laser Marking Software can either "handshake" with the rotary or control it directly.
For handshake type rotary marking see this page.
If we want Prolase to control the rotary motion directly then we have to do something more elaborate. We purchase the Sherline rotary but without their stepper motor or controller. We attach a high end rotary encoded servo motor in place of the stepper motor. We then connect that to our own Jimani Servo Controller electronics.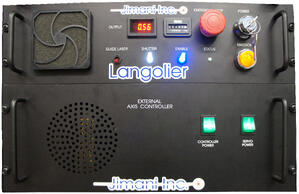 The Jimani Servo Controller communicates with Prolase Plus software by means of a software package named "Jimani Controller". This software package lets our controller and Prolase speak the same language. Jimani Controller Software was developed specifically for our Servo Controller and we own it.
Prolase can send motion commands to our controller and our controller can understand them. In this manner we are able to move in any fashion that Prolase wants or allows. For example, Prolase is capable of breaking a graphic image into tiles and then sending motion commands to our controller so that each tile is marked in the correct location around a cylinder. Because we use a high end servo motor, we can provide very precise positioning of the cylinder so that the edges of the tiles match up without gaps or overlaps in adjoining segments. We could never achieve this with the Sherline controller or stepper motor.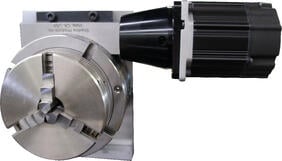 We can do the same thing with linear tiling that we do with rotary tiling. If we have an X axis stage with our servo motor attached, we can break a large image into tiles and move the part around with our motor and controller so that the marked tiles on the part line up without seams. We purchase a ball screw driven stage and attach our servo motor to it. It is another standard accessory.
5C Collet Holder
We now offer the Kalamazoo 5C collet holder as an optional feature on the Sherline rotary indexer with Langolier fiber laser systems.
Click here to learn more about the 5C collet holder.
If you are interested in talking to us about how to use accessories like this please contact us.
Jimani Servo Controller Tiling Example