Langolier Class IV Open Table Fiber Laser Marking System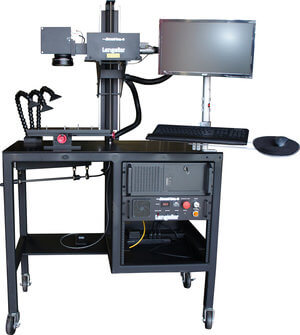 A Jimani Langolier Fiber Laser Marking System is a turn key system and an amazingly versatile tool. The workstation's long Z Axis adjustment can place the focusing lens as high as 29 inches above the marking surface. The system easily accommodates long focal length lenses, parts fixtures and large or tall parts. The industry standard 19" rack mount computer and Langolier Fiber Laser Controller are housed in the workstation frame making the unit completely self contained with the exception of a single 115 VAC household outlet. Mounted on casters, the system, if need be, can be moved from one work area to another without being "tethered" by water or high voltage connections. All Langolier fiber laser marking systems are supplied with Prolase, a user friendly, proven, robust laser marking software package.
The Langolier fiber laser marking system is the state of the art in industrial direct part marking lasers. The Langolier fiber laser marker uses the latest solid state Ytterbium fiber laser systems (Infrared1060-1080nm) possessing a powerful and efficient combination of flexible fiber delivery, high peak power, excellent beam quality, and the best wall-plug efficiency available.
The fiber laser is a feature rich tool and includes:
Air-Cooled, Ytterbium Q-Switched Fiber Laser for marking, etching, and engraving on a wide variety of surfaces
20, 30, and 50 watt versions
Excellent beam quality (M²=1.4) -TEMoo beam profile
Low voltage power source (110 VAC) requirements
Flexible fiber cable beam delivery system
Designed for integration into automated work cells, assembly line, and other integrated equipment
Built-in I/O for integration into a production line or other equipment.
Fast marking times yield high throughput
Clean, precise marks with little heat affected zone
High contrast marking - clear crisp, readable marks both human and machine readable (2D, UID, UPC, and most standard bar codes)
Convert and mark logo and vector graphic files easily
Ideal for laser marking Metals, Plastics, Ceramics, and just about anything else
Laser Stain Marking - Made on stainless steel and titanium creating an oxide layer forming a black mark
Laser Surface Etching - Slight material removal to create contrast mark
Laser Ablation - Surface material removal yielding a permanent mark
Laser Engraving - Deep marks for harsh environments and difficult applications
There is no question this fiber laser system has a record of reliability unmatched by any solid state or gas laser system. The Langolier is virtually maintenance free and has the lowest operating costs available.
Components of the Langolier with Z Axis Workstation include:
IPG fiber laser source (20-50 watt) with integrated HeNe alignment laser
Scanlab hurrySCAN High Speed Scanheads
Scanlab RTC-5 Interface and I/O Boards
Optical Head with reversible beam Expander
Langolier Fiber Laser Controller
Network ready Industrial PC
Langolier manual Z Axis Workstation
FIBER LASER APPLICATIONS
Typical Applications Include:
Surface laser etching plastics, metals, and composities
Surface stain marking stainless steel and titanium
Paint layer removal - tags, backlit buttons
IC Chip marking
Direct Parts Marking machine readable bar-codes, 2D Data Matrix, UID, SPEC2000, AIAG
Lot Codes, Date Codes, Product Serialization
OCR Code marks
Graphics - logos, photos, schematics, symbols
Etching (Material Vaporization),
Surface Texturing
Marking round parts - ends and around circumference
On the fly marking
Click here to see our applications home page.
Class IV Open Table Fiber Laser Marking System on our Blog